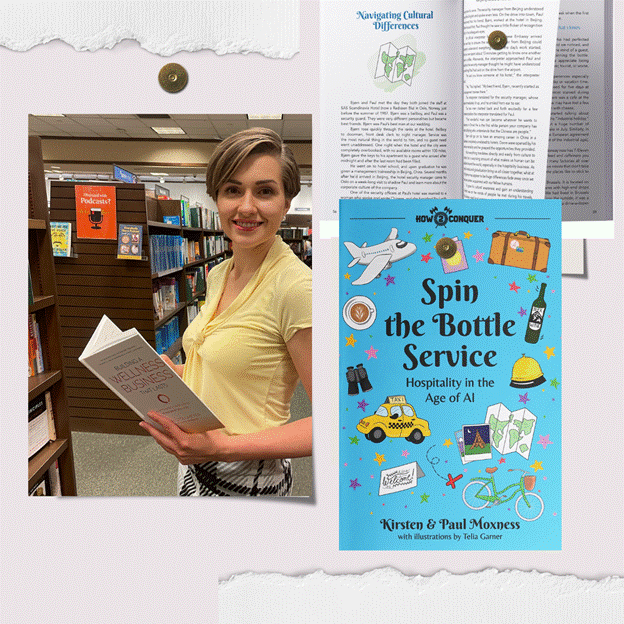 It was written in 1989 and since then tons of books for a similar topic have been published, but not all of them could be so well applicable to hospitality. However, as soon as I started my first hands-on management training, I realized that as perfect as your personal and interpersonal theoretical knowledge could be, you still can feel awkward during real-life situations which you never thought may take place. As our teachers were saying "learning by doing is a huge part of hospitality". Back then I thought that life would be so much easier if there was a book similar to "7 habits" about every specific industry or occupation. I wished…
A couple of weeks ago a connection from my Linkedin network sent me a copy of his future book "Spin the Bottle Service. Hospitality in the Age of AI." After I read a couple of pages, I started laughing to myself, because that was exactly the book which I "ordered" in 2014 when going through my training. This is a true must -read book for the young people, who are just at the start of their discovery path through the hospitality industry, and hospitality students with little or no practical experience, because it helps to alleviate "learning by doing" with "learning by reading". This reading will also be helpful for the new breed of hoteliers with a hint on what previous generations are looking for when booking their stay in a hotel or going out for dinner.
For those who are already PROs in the industry, I found the value in realistic advice on how to save humaneness in AI processes that already seem to occupy everything and everywhere. Hotels and restaurants are in the race of digitalization now. Still, the long-lasting memories are made by the personal connection, while an impressive scale of AI integration is able to create only additional comfort for guest-users. At the same time, breaking the standards and overcoming cliches, customer service will become in demand even more than ever.
Read. Enjoy. Grow.