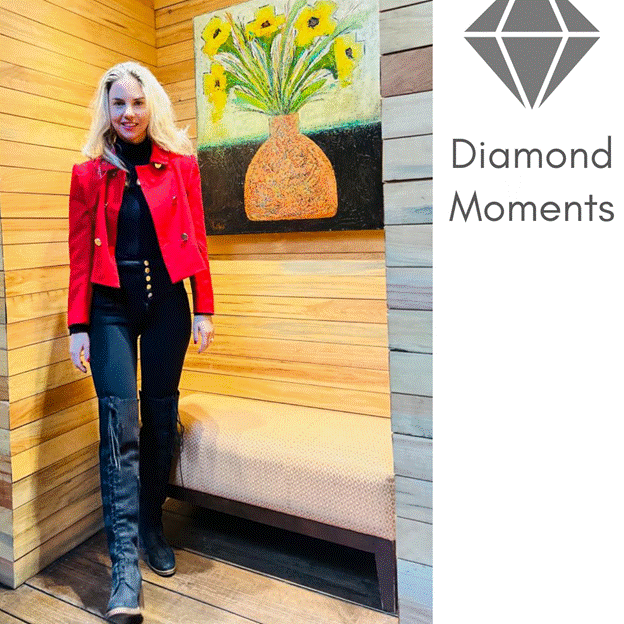 I checked my busy calendar and blocked an entire day, I made it happen, I didn't allow any contradiction. I have been yearning for it for some time, I knew time was due and I had deserved it after relentless work producing results.
Let's spark the flavor of the month. Join in on a mindful journey of reflection, pause with us, embrace and unleash Diamond Moments.
Never before in history humanity was confronted with such an expedited speed of changes combined with newly intertwined policies, restrictions…influencing our daily lives. Thereupon mindset and societal behavior have changed and impacted communities around the world.
In fact, the pendulum has never started to swing this swiftly.
During my wellness day, as I was contemplating on these facts,
In that very moment, I wondered for a second:
𝗛𝗼𝘄 𝘁𝗼 𝘀𝘁𝗮𝘆 𝗰𝗮𝗹𝗺 𝗮𝗻𝗱 𝘀𝘁𝗿𝗼𝗻𝗴 𝗱𝘂𝗿𝗶𝗻𝗴 𝘁𝗶𝗺𝗲𝘀 𝗼𝗳 𝗱𝗶𝘀𝗰𝗼𝗿𝗱? Instantaneously, it was like a fire ignited in my brain: 𝗪𝗲𝗹𝗰𝗼𝗺𝗲 𝗶𝘁, 𝗮𝗻𝗱 𝗺𝗮𝗸𝗲 𝗽𝗲𝗮𝗰𝗲 𝘄𝗶𝘁𝗵 𝘁𝗵𝗶𝘀 𝗻𝗲𝘄 𝗿𝗲𝗮𝗹𝗶𝘁𝘆 𝗼𝗳 𝘂𝗻𝗰𝗲𝗿𝘁𝗮𝗶𝗻𝘁𝘆. Don't fall prey to the lingering fear that tries to sneak in.
Think about the journey a diamond had to undergo to reach the diamond level of splendor to glow in its full capacity. It was all part of the game, a process, the stone had to be resistant to huge pressure, and be polished to emerge into this new potential and reality.