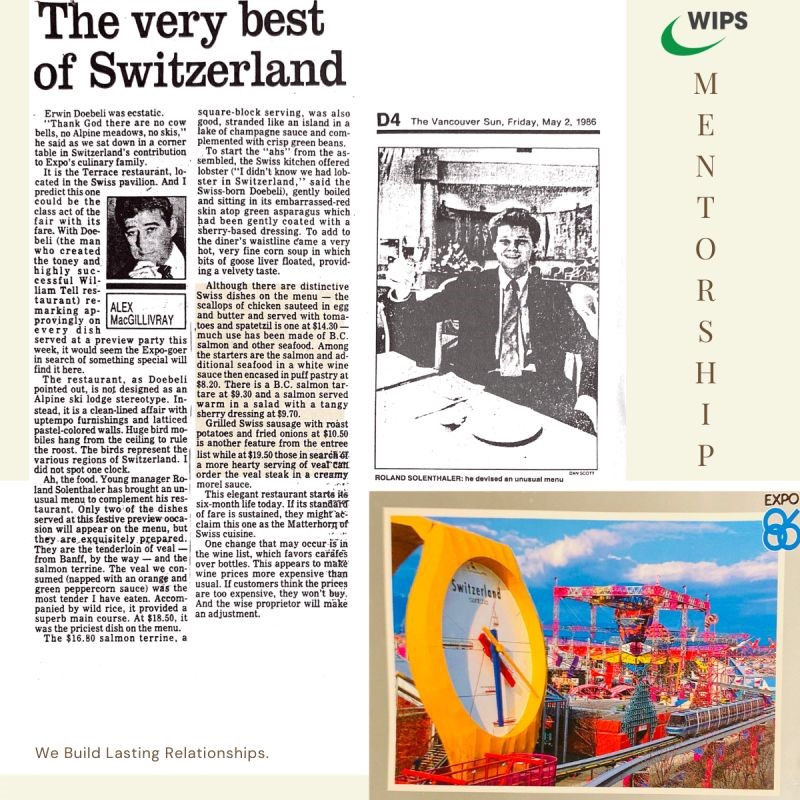 Expo 2020 Dubai is around the corner with the invitation to remember that we all can attain mastery to build a better world and be part of shaping a flourishing future.
During our second episode of exploring the gratitude to the phenomena of mentorship, we discover how we can expedite our growth and success through the support of mentorship, by connecting minds and utilizing the obtained knowledge in engendering a new experience that transforms later into wisdom.
The intention of the early expos was to display bleeding-edge technological inventions and breakthroughs of the current time. At the edge of the 21 century the cultural exchange became in demand in addition to tech progress trends. Expo became the reflection of the evolution of human development. You could find everything your heart wished for: beauty, crafts, cuisine from every corner of the world.
Roland Solenthaler, the co-owner of WIPS Worldwide International Placement Services, was part of the 1986 Expo as the General Manager of the Swiss Pavillon Gourmet Restaurant called The Terrace in Vancouver Canada. When he speaks about his experience he highlights that the newspaper called it "The Place to dine at Expo" and the restaurant hosted VIP's from prominent politicians to foreigners and locals, a true diverse melting pot of people from all walks of life.
Rudy Baur, the right hand of Ueli Prager, inventor and founder of Mövenpick Hotels & Resorts, / hotels/restaurants mentored Roland Solenthaler, and when Roland looks back at his journey he is convinced that part of his success was because someone empowered him and believed in his ability to manage and represent Switzerland at the Expo 1986 as General manager. Roland sees his duty now as Co-owner at WIPS as an empowering tool to give the younger generation the stage to pioneer always with the backbone of support in mentorship. After all, that's the way he passes on his gratitude to the legacies of long remembered pioneers of the industry.