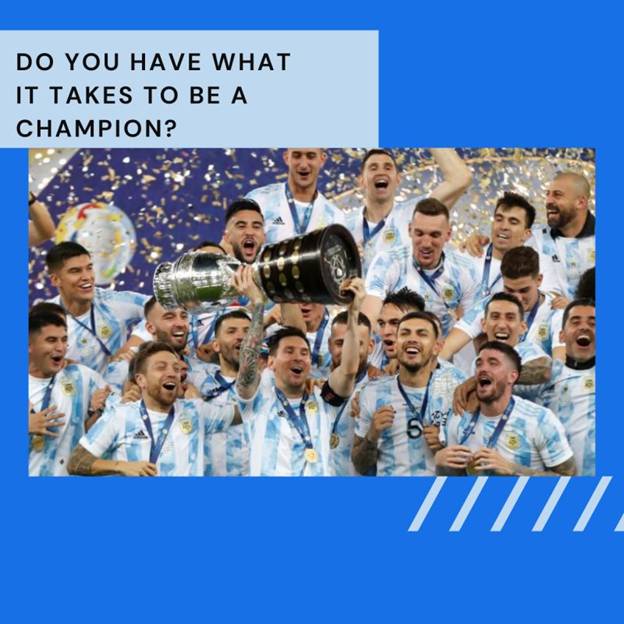 All eyes are on arenas of the world's biggest stadiums. Not only UEFA but also Copa America brings excitement to fan's hearts of all ages. The crowd is cheering with excitement…
Many people watch sports games only for entertaining reasons, but it is just a part of the game. We see it deeper if we ask the question this way: what lesson can soccer teach us to boost our personal and professional results?
In every single game we can observe these personal qualities of the athletes, which we all could implement in our everyday life to succeed:
⚽️ 𝐒𝐭𝐫𝐚𝐭𝐞𝐠𝐢𝐜 𝐭𝐞𝐚𝐦𝐰𝐨𝐫𝐤 – after consulting with their mentor, a team is trying to play most effectively;
⚽️ 𝐋𝐞𝐚𝐝𝐞𝐫𝐬𝐡𝐢𝐩 – if you are passed the ball of trust, take over the leading role;
⚽️ 𝐏𝐞𝐫𝐬𝐢𝐬𝐭𝐞𝐧𝐜𝐞 – goalkeepers relentlessly save the goals, while the players relentlessly keep attacking;
⚽️ 𝐃𝐢𝐬𝐜𝐢𝐩𝐥𝐢𝐧𝐞 – each member of a team knows his role and does his best to maximize his performance;
⚽️ 𝐆𝐨𝐚𝐥-𝐨𝐫𝐢𝐞𝐧𝐭𝐚𝐭𝐢𝐨𝐧 (here no comment😀)
The games of this season showed us multiple unexpected moments powered by striving for victory. However, we would like to bring to your attention one specific episode that we found the most spectacular and inspiring to watch. We are talking about the emotional reaction of Lionel Messi when Argentina was announced the champion of Copa America 2021.
Messi won countless awards during his sports career. However, it took him 16 years and more than 150 appearances to become a champion with his motherland at last. Argentina won their first major title in 28 years and Lionel Messi finally won his first medal in a blue-and-white shirt.
Never in our life, we saw his face so happy. Even though the winning goal was not scored by himself, the pride for his team was the only important thing at that moment…
What is the moral of this story?
– 𝐖𝐄 𝐨𝐯𝐞𝐫 𝐌𝐄 – is the final bullet point that makes the list of personal qualities of the real champions, leaders, and winners complete.
𝐀𝐧𝐝 𝐰𝐡𝐚𝐭 𝐚𝐛𝐨𝐮𝐭 𝐲𝐨𝐮? 𝐃𝐨 𝐲𝐨𝐮 𝐡𝐚𝐯𝐞 𝐰𝐡𝐚𝐭 𝐢𝐭 𝐭𝐚𝐤𝐞𝐬 𝐭𝐨 𝐛𝐞 𝐚 𝐥𝐞𝐚𝐝𝐞𝐫?😀