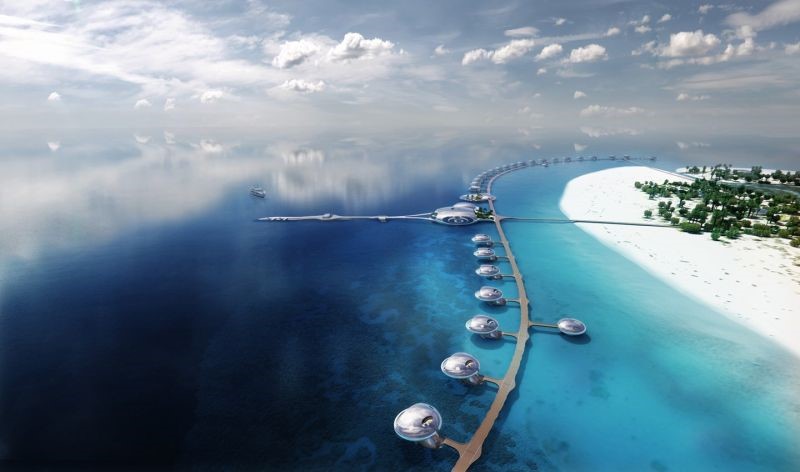 All stories of victory and success begin somewhere with a vision.
Change requires an ambitious and feasible blueprint to manifest pioneer work.
One great example of how the new era of hotel development could look like was unveiled in the vision 2030 of the Kingdom of Saudi Arabia.
In the true sense, a shift of perception to make traveling a cause for good on all pillars: environment, culture, technology, health, local community. Not limited to Sustainability only but Regeneration.
To widen our horizon we depict some of the green initiatives of this unfolding hideaway that is worldly known as The Red Sea Development Company, a 28,000 sq. km sustainable tourism resort featuring more than 90 unspoiled islands along Saudi Arabia's west coast. By completion in 2030, it will consist of 50 hotels with 8,000 rooms and 1,300 residential properties:
🌳100 percent reliance on renewable energy, a total ban on single-use plastics, zero-waste-to-landfill, and an aspiration to 100 percent carbon neutrality.
🌳Largest marine spatial planning simulation ever undertaken
🌳Technology can be a huge asset, monitoring and thus protecting the environment: A smart destination management system that will monitor the environmental impact of the operations, manage visitor movement to avoid over-tourism, and provide guests with a seamless, personalized experience.
🌳Measures will include personal carbon footprint trackers and sensors to monitor the environment, such as water salinity and tidal flows
🌳Mitigate carbon dioxide emissions, waste production, and light and noise pollution, maintaining the destination at a level equivalent to a Marine Protected Area.
🌳Smart technologies including augmented and virtual reality, will enhance enjoyment of the destination whilst protecting its ecological framework.
🌳Technology will ensure the experience of visitors is seamless, personalized, and of the highest standard, using such measures as biometrics, virtual concierge services, and centralized journey planning.