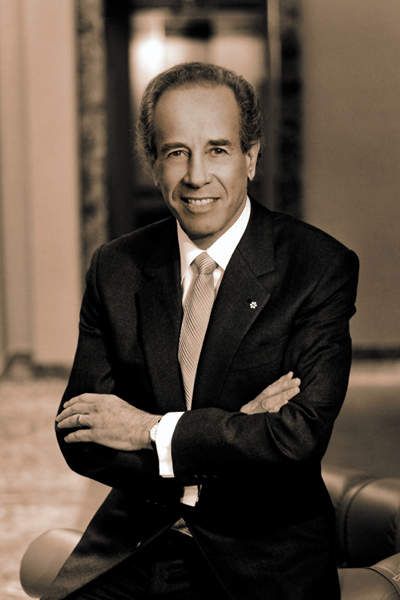 A young architect from Toronto, Isadore Sharp, ignited his passion to develop his own hotel, after helping his family friend with building a small 22-unit motel, from that sparkle he founded the Four Seasons Hotels and Resorts in 1960, and in 1961 opened his first hotel in downtown.
Issy Sharp became iconic by following the 3 C's rule of branding: Clarity, Consistency, and Constant. At the same time the Golden Rule became a phenomenon that has driven most of the Four Seasons success:
"𝗧𝗵𝗲 𝗿𝗲𝗮𝘀𝗼𝗻 𝗳𝗼𝗿 𝗼𝘂𝗿 𝘀𝘂𝗰𝗰𝗲𝘀𝘀 𝗶𝘀 𝗻𝗼 𝘀𝗲𝗰𝗿𝗲𝘁. 𝗜𝘁 𝗰𝗼𝗺𝗲𝘀 𝗱𝗼𝘄𝗻 𝘁𝗼 𝗼𝗻𝗲 𝘀𝗶𝗻𝗴𝗹𝗲 𝗽𝗿𝗶𝗻𝗰𝗶𝗽𝗹𝗲 𝘁𝗵𝗮𝘁 𝘁𝗿𝗮𝗻𝘀𝗰𝗲𝗻𝗱𝘀 𝘁𝗶𝗺𝗲 𝗮𝗻𝗱 𝗴𝗲𝗼𝗴𝗿𝗮𝗽𝗵𝘆, 𝗿𝗲𝗹𝗶𝗴𝗶𝗼𝗻, 𝗮𝗻𝗱 𝗰𝘂𝗹𝘁𝘂𝗿𝗲. 𝗜𝘁'𝘀 𝘁𝗵𝗲 𝗚𝗼𝗹𝗱𝗲𝗻 𝗥𝘂𝗹𝗲 – 𝘁𝗵𝗲 𝘀𝗶𝗺𝗽𝗹𝗲 𝗶𝗱𝗲𝗮 𝘁𝗵𝗮𝘁 𝗶𝗳 𝘆𝗼𝘂 𝘁𝗿𝗲𝗮𝘁 𝗽𝗲𝗼𝗽𝗹𝗲 𝘄𝗲𝗹𝗹, 𝘁𝗵𝗲 𝘄𝗮𝘆 𝘆𝗼𝘂 𝘄𝗼𝘂𝗹𝗱 𝗹𝗶𝗸𝗲 𝘁𝗼 𝗯𝗲 𝘁𝗿𝗲𝗮𝘁𝗲𝗱, 𝘁𝗵𝗲𝘆 𝘄𝗶𝗹𝗹 𝗱𝗼 𝘁𝗵𝗲 𝘀𝗮𝗺𝗲."
In 2021 we celebrated 60 years of the Four Seasons brand. The company is going to the next phase of growth keeping the focus on genuine, intuitive service, in addition to ensuring a luxury experience with health and safety top of mind now. Nine new hotel, resort, and residential projects are in progress this year, which makes a record for the highest number of new deals in the company's 60-year history.
Congratulations to Isadore Sharp for creating an exemplary hotel brand that after so many years remains the icon in the luxury hospitality industry.