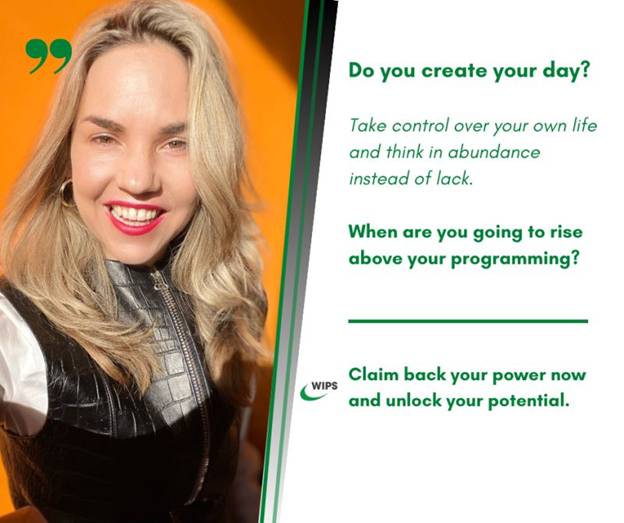 Do you create your day? Or do you fall victim to outside events, habits, or people's behavior? If yes, when have you given up the power of taking control of your life?
Do you live in a space of lack or do you live 𝗶𝗻 𝗮 𝘀𝗽𝗮𝗰𝗲 𝗼𝗳 𝗮𝗯𝘂𝗻𝗱𝗮𝗻𝗰𝗲?
When you wake up in the morning, what's 𝘆𝗼𝘂𝗿 𝗳𝗶𝗿𝘀𝘁 𝘁𝗵𝗼𝘂𝗴𝗵𝘁?
Your first thought sets the tone of the day.
Here are 4 WIPS TIPS towards becoming a deliberate creator:
What you think actually becomes, if you realize that you are the one that is setting your own limits, you'll realize that you are constantly creating your own reality.
Become aware of how you get up in the morning, 𝘄𝗵𝗮𝘁'𝘀 𝘁𝗵𝗲 𝗺𝗼𝗼𝗱?
Stop the excuses, and transform low-energy thoughts into motivating uplifting thoughts.
𝗖𝗼𝗻𝘀𝗶𝘀𝘁𝗲𝗻𝗰𝘆, become a conscious thinker, don't fall victim to your monkey mind, rather train yourself to take control over it, by exchanging destructive thoughts to constructive thoughts.
𝗖𝗼𝘂𝗿𝗮𝗴𝗲, have the courage to make necessary changes, everything is a process, and we never stop learning, admitting it requires courage, 𝗳𝗼𝗿𝘁𝘂𝗻𝗲 𝗳𝗮𝘃𝗼𝗿𝘀 𝘁𝗵𝗲 𝗯𝗿𝗮𝘃𝗲.